RMR shoots on the second complete weekend of each month from April through October.  Our range is located at the Noxon Rod & Gun Club.  Shooters need to be present at the safety meeting  (9:30 A.M.) to shoot each day.  Each day will be its own shoot, so feel free to show up for either day or both.  Dry camping is available at the range.
Single action revolvers, lever rifles of pistol caliber, and pre-1900 hammered pump, lever, or SxS style shotguns will be used at all stages.  No magnum loads, lead bullets only.  Lead shot only, #4 or smaller.  Western attire required for all shooters and suggested for spectators.  No tennis shoes, T-shirts, or baseball caps allowed for shooters.  Eye and ear protection required for all shooters and  spectators.
2020 Shoot Schedule
Cancelled  April 11 & 12   Cancelled

Cancelled May 9 & 10 Cancelled
June 13 & 14 **Note Detour
July 11 & 12 **Note Detour
August 8 & 9
September* 12 & 13
October 10 & 11
     *September shoot will be scored on Saturday, Sunday, or both days combined.  Your choice.
** HIGHWAY 200 DETOUR
  If you are traveling HWY 200 west, there is a detour as the Trout Creek Bridge is under construction and completely shut down from June 1 - July 15.  Therefore, you will need to take the Blueside Road which is a right hand turn just west of Thompson Falls.  The Blueslide is across from the Rimrock Restaurant & Motel and just east of the bridge over the Clark Fork River west of Thompson Falls. This road is a narrow, windy, paved county road so the bulk of it is posted at 35 miles per hour.  Therefore, expect to add 20-25 minutes to your journey.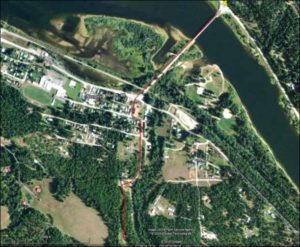 Off of Highway 200, turn south to the town of Noxon (big green Highway signs, go across the one-lane three span steel bridge). You will hit a "T" in the road, bear right and take an immediate left turn onto Miller Street. Go one small block, turn left on 2nd Avenue. As the road bears to the right (large brown house on your right and Hill Outfitting on your left), go straight through the green metal gates. Go straight up the gravel road (watch out for the pot holes) and you will come upon the white Noxon R&G Club house. There are roads around each side, drive to the back side of the club house, go up the hill and you will end up at the trap range. You can park in front of the trap house (campers) or near the outhouse (cars, trucks). Big Whiskey is about a 100 yard walk to the east down the two-track on the south side of the trap house. Can't miss it. This may sound confusing, but Noxon is a small town. From Highway 200 to the range (straight south) is only about 1 to 1.5 miles. All the intersections will be marked with a shoot sign.